Healthy Rejuvenating Skin Care
Piper Rose Select Skin Care was specifically formulated using the latest research in skin care anti-aging products by PhD Research Scientists, Microbiologists, and Master Aestheticians. Piper Rose Select uses only proven high quality ingredients to help you achieve healthy nourished skin. Results driven for the youthful rejuvenation you are looking for yet gentle enough for the most sensitive skin. You're going to love it!
FREE SHIPPING
Enjoy free shipping for all orders over $250
No Minimum Order Required
Highly Select Ingredients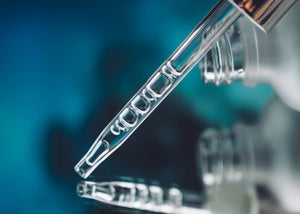 Hyaluronic Acid
A Moisture and Anti-Aging Powerhouse that occurs naturally in your body that works to replenish skin's moisture barrier as well as plumps fine lines.  Hyaluronic acid acts like a sponge in your skin.  Each molecule absorbs up to 1000 times its weight in water to keep your skin healthy and hydrated. When combined with Silver Ear Mushroom it gives this ultra hydrating serum an extra edge.
Peptides & Stem Cells
Naturally occurring Peptides help signal your cells to produce collagen and elastin helping to make your skin appear firmer and tighten fine lines. Antioxidant rich Botanical Plant Stem Cells nourish and promote healthy skin cell turnover to help renew and repair your skin. Powerful ingredients to help protect from sun damage and appear more youthful.
Gold & Silver
Taking skin care to the next level, these important  ingredients provide a host of benefits for your skin.  Infused precious metals provide ultimate Anti-Aging benefits with their healing Antimicrobial properties. These highly sought after minerals have long been prized for their Anti Inflammatory and rejuvenating properties. A remarkably healing addition to your skin care routine.
Testimonials
My skin is now much more hydrated and I feel my wrinkles aren't as noticable and my pigment has evened out. I even used the HydraSilk Repair Serum on my daughters sunburn and it helped it heal so quickly. Love the the natural ingredients. Even with my sensitive skin I don't react to it.
Amazing product.

Brianna
I've used this product for a while and it has been the best thing for my occasional acne skin! It keeps my skin incredibly soft and smooth and has helped keep my acne at bay. Love it!

Rebekah
The Repair Serum has been a life saver for my dry cracked hands and it's healed them. I now use it every day after working construction. Soaks right in with no greasy feeling. So happy I found something that actually works at such a good price.

Thomas
How We Got Started...
Learn more about the founder and the story of how Piper Rose Select began.
About Us